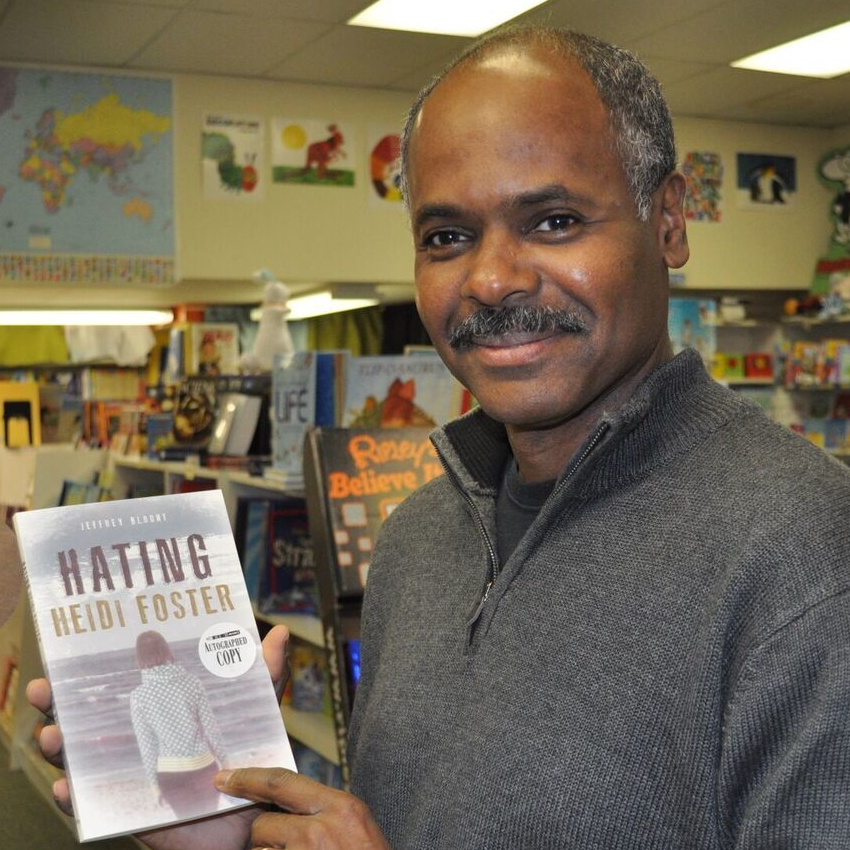 Jeffrey Blount
It's always been about stories for Jeffrey Blount (B.S. Mass Communications, '81). More importantly, it's always been about telling stories. That, the human ability to relate a story to another human in a manner that is informative and creative, has been the one constant theme in Blount's expansive career—which has included everything from directing national news shows for NBC to authoring two works of fiction.
Stories were the center at NBC when Blount was directing highly respected shows like "Meet the Press," and they were the catalyst when—a little later in life—he began writing novels that would sell thousands of copies worldwide. Stories were part of the foundation for when Blount took on the role of "media training," where he taught professional athletes how to tell their own narratives, and when he took on the task of writing scripts. In short, stories are what it all comes down to for Blount and he admits this fact without hesitation.
‌"All my jobs have entailed storytelling in one way or another," Blount said. "That is what brings them all together. To me, in essence, good journalism is storytelling. You are gathering facts, writing a story and putting it out there for people to learn from and draw conclusions from. In the end, they all come together. It's all about storytelling."
Attempting to summarize Blount's career achievements in the world of news, entertainment and literature over the past 35 years can be somewhat of a daunting task. He is a man who has worn many different hats, in many different fields. And he is a man that can seemingly find success in whatever it is he chooses to put his mind to. But it is safe to say that his entry into the news industry sounds more like a movie (one that he maybe wrote the script for?), than that of a real-life story.
Before his break into the news business at NBC, Blount occupied what many would call the lowest possible wrung of the industry: paper delivery boy. This job, which Blount did during his youth in Smithfield, Virginia, turned out to be his first step into a career that would stay with him for more than 30 years.
One week Blount, in between deliveries and cleaning up at the newspaper, decided to submit a letter to the editor about a controversial community issue. Shortly after the submission, Blount was called into the editor's office by his boss. He wasn't sure what way this was going to play out.
"The next thing I knew, I was a cub reporter at the paper," Blount said. "That was the bump that got me into the news business."
Fast forward to 1977, Blount enrolled in the Robertson School (then called the School of Mass Communications) and began taking courses in broadcast journalism.
Off the heels of an internship at WTVR in Richmond, Blount knew he wanted to pursue television as a career. "I walked into the control room [at the Richmond station] and fell in love all over again," Blount said.
After graduating from the School in 1981, Blount— who holds a seat on the VCU Robertson School Advisory Board and was inducted into the 29th class of the Virginia Communications Hall of Fame in 2016—set out on a career road-trip up the East Coast with his then girlfriend, now wife Jeanne Meserve, to search for a job in television—a modern career seeker with Kerouac tendencies. The voyage would end up paying off for Blount, helping him land his first job at NBC. And from his first position as an assistant director at the network, Blount would begin building the foundation of a long and robust career at NBC.
It would turn out to be the beginning of a career that would eventually lead to him directing top-rated national TV shows such as "Meet the Press," "The Today Show," "The Chris Matthews Show, " and "NBC Nightly News."
Blount is extremely proud of his part in these shows—especially "Meet the Press"— which would set a new pace for political talk shows and become a cultural staple for political discourse in the country. In short, the show Blount helped revive set the format for the current Sunday morning television news shows.
"Looking back, if I were to put an emphasis on one part of my career [in news], I would put it on my 10 years of directing 'Meet the Press,'" Blount said. "I would do this because of it being the oldest running television show in history and because of the power and influence the show carries. When I was directing 'Meet the Press,' it was one of those times that you just had to pinch yourself to remind yourself that you are directing a show with all this history and clout."
"Meet the Press" grew substantially while Blount was at the helm. The show went from a half-hour to an hour and from then third place in ratings to first, staying in that position for the remainder of Blount's time on the show.
"The show worked hard," Blount said. "We travelled and initiated a lot of different things. We began the technique of using graphics and playing back tape to help put better context and influence into the show. We also began going back and pulling old interviews we had done that helped shed light on what we were currently facing in the news. In short, we did a lot to move the Sunday talk-show ship forward
Aside from directing "Meet the Press," "The Today Show," and "The Chris Matthews Show," Blount also had a hand in directing several State of the Union addresses and various other presidential speeches and press conferences over the years.
Rounding his more than three-decade plus career off at NBC, Blount assumed the role as director of Washington segment of NBC Night News, retiring from this position in 2016. But this would not serve as the final chapter of Blount's career. There was still another chapter waiting to be written in his personal story.
News and journalism had always been a passion for Blount. He liked telling true stories, but he also liked telling other stories, stories that were of his own imagination or creative slant. The desire to tell these other stories nagged at him until he couldn't ignore it anymore. "I had both of these pieces, news directing and creative writing in fiction and documentary scripts, calling to me," Blount said. "I find the most joy in creating my own stories. I also find a great amount of joy in being able to write scripts for specific topics—like the African-American History Museum, the Muhammad Ali Center—things that affect the lives and mentalities of an entire people."
With some time later in his career at NBC, Blount began pursuing the stories he hadn't had the time to tell while directing. It was something that he had been as passionate about during his youth—inspired by the works of Toni Morrison and John Irving— but hadn't been able to devote enough attention to because of his other career demands. Now, he was able to tend to that desire of crafting other stories in a manner that allowed more time and attention.
"When I read Toni Morrison's, 'The Bluest Eye,' it taught me about why I should feel proud about who I am and what my color is. When I read Irving, it taught me that we all have eccentricities and that at a certain point we should just all accept those as part of who we are. I write for the same reasons, so that at the end of a book my reader will come to some conclusion about who they are and their place in the world based on the story I told."
Blount published his first novel, "Hating Heidi Foster," in 2012. His second novel, "Almost Snow White," was published in 2013. He also has produced many scripts for documentaries on subjects ranging from sports to politics. He had finally answered the calling of both the forces that tugged at him throughout his life and came out the other side.
All of his work—the national television shows, the novels, the scripts and all the stories in between—would not have been possible without some early guidance he got from professors at VCU in his formative years, he said. "VCU professors were incredibly open and accessible to me. We built a relationship that was deeper than just teacher and student and that was inspiring."
Blount recalled English professor Karin Larson, who pushed him first out of her class and then into wanting to continue to write fiction. Acknowledging Blount's ability with words, Larson told him that he was not going to learn anything in her freshmen English class. Something different—something more advanced—would have to earn him the credit in place of the coursework.
She told him to bring his writings to her every week and the two would go over them together during her office hours. At the time their meeting began, Blount had a few short stories and the beginnings of his first attempt at a novel. "She (Larson) was huge in terms of making me believe in myself. Without her, I don't believe I would be writing today."
Blount also remembered a mass communications professor, Ted White, Ph.D., and the conversations he had as a student with him about his career as a CBS producer. "I would stay after class and talk with him and leave just feeling inspired," Blount said. "Having someone that had been there and done it really helped me understand and want to do the same thing."
Impact
The Jeffrey E. Blount Scholarship is awarded to students with a GPA of 3.0 and higher who have identified as first-generation college students and are pursuing a degree in journalism.