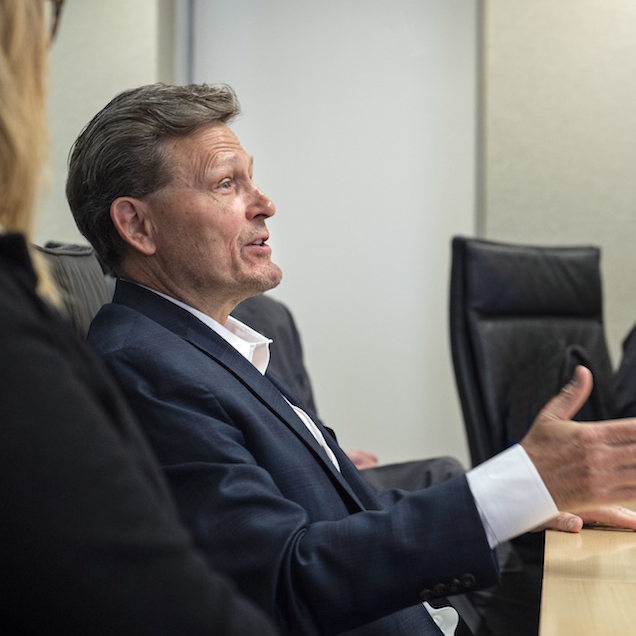 David Baldacci
Bestselling novelist and Virginia Commonwealth University alumnus David Baldacci along with his wife, Michelle, generously established two scholarship awards in the College of Humanities and Sciences with a $1.1 million gift — one that provides experiential learning opportunities and another that supports political science students. Baldacci, who received a bachelor's degree in political science from VCU in 1983 and a law degree from the University of Virginia School of Law in 1986, has published 37 novels for adults, all of which have been national and international bestsellers, and several of which have been adapted for film and television. His novels have been published in over 45 languages and in more than 80 countries, with more than 130 million worldwide sales. He has also published seven novels for younger readers.
David makes frequent visits to campus to meet the students who have received funds as a result of his generosity and has been able to tell recipients in person that their experiences around the globe and outside the classroom underscore his and his wife's goal for the fund. "As a writer, I always want to get outside of my comfort zone because if I don't, then my writing is going to grow stale and uniform and formulaic and nobody's going to be inspired by it," he said. "Sometimes, as students, you get into these routines where you go to class and you study material and you take your tests and you move on. It's a narrow box. So we wanted to give an opportunity to get outside of that narrow box and go to a place that maybe you never thought you'd be able to go and meet people you never thought you'd have an opportunity to meet."
Impact
In 2017, the Baldaccis' gift created the Baldacci Student Experiential Learning Fund, which provides grants of $1,000 to $5,000 to academically promising VCU students from diverse areas of study and backgrounds to allow them to pursue internships, conferences, research, domestic or international study abroad, and social entrepreneurship opportunities. "When my wife and I were talking with the university about what we wanted to do, we sat down and talked about: What would we have liked to have had the opportunity to do when we were students? For me, and I think for my wife as well, it was something outside of the curriculum, some experience that you otherwise wouldn't have had the opportunity to pursue."
The Baldaccis' gift also led to the creation of the Baldacci Political Science Endowed Scholarship, which was the first such scholarship for the Department of Political Science and is one of the largest in the College of Humanities and Sciences.